Beginner Kids Martial Arts Classes Enrolling Today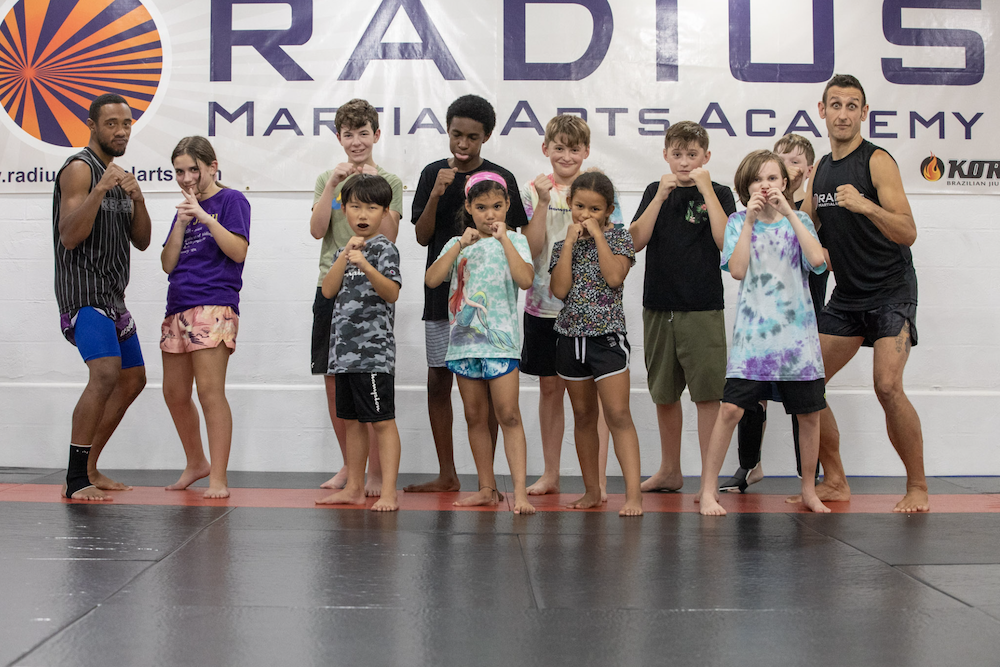 At Radius Martial Arts Academy, we believe children learn best while having fun in a supportive environment based upon mutual respect. Our youth program alternates on a bi-weekly basis between Muay Thai and Brazilian Jiu-Jitsu, providing students with the opportunity to form a foundation in both of these martial arts.

"My son is only 14 and has been with them for over a year. It has taught him so much about discipline, honesty and friendship." - Michelle D.
Tom Billinge, our Adult and Kids Muay Thai instructor (Kru Tom). He has been training for over 20 years throughout the world and is the author of three books on warrior philosophy. Kru Tom lived and trained in Thailand, Hong Kong, China, Vietnam and his native United Kingdom. Tom brings his deep cultural understanding of Muay Thai and Muay Boran (ancient Thai boxing) to Fairfield. Tom currently teaches our children's Muay Thai classes on Tuesday and Thursday, as well as our adult pad-work class on Saturday morning. Kid's Martial Arts basics include striking, kicking, sweeps, punches, slaps, evasion tactics, footwork, elbow and knee strikes, and stances. Grasping martial arts basics is best accomplished through repetition, forms, and sparring.
In both Muay Thai and Brazilian Jiu-Jitsu your child will benefit by:
Learning self defense and bully prevention techniques - Your child will learn basic forms of essential moves like blocks and kicks.
Increasing overall fitness - Martial arts is the perfect outlet for kids to release some energy and boost their health!
Developing concentration and improving motor skill movements - Studying form and practicing regularly helps children focus and build coordination
Improved self confidence and respect - Your child will feel secure in his/her abilities and learn respect for peers, teachers, and him/herself.
Martial Arts is a Fun, Social Activity for your Kids to Get Excited About

We have designed a Kids Martial Arts program curriculum ideal for kids of any age. Our program not only teaches effective Jiu-Jitsu and Muay Thai techniques, but also essential life skills that prepare your child for success. Through these arts, we strive to build confidence, strength and discipline in our students to be carried with them out into their world. If you are interested in signing your child up for one of our Kids Martial Arts classes, simply fill out the form on the side of this page.